Patrik Antonius's PokerStars nickname revealed?
Tags: Fake Love888, full tilt poker, patrick antonius, pokerstars.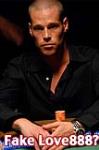 According to new rumors, the Finnish Full Tilt Pro Patrik Antonius is playing at PokerStars under the nickname «Fake Love888″. Since Black Friday when Full Tilt Poker was closed down, Antonius has claimed that he's not playing much poker and that he will lose millions of dollars if Full Tilt Poker doesn't pay back their players money.
However, some people claim that he's been a quite active player at PokerStars since a few months ago. A forum user on a big poker site recently posted this conversation from the PokerStars chat.
Wimet_: jo oogee
Wimet_: whos fake love888
oogee: pa
Wimet_: ok
Wimet_: glgl
oogee: thx
«pa» = Patrik Antonius. Apart from that the «Fake Love888″ account is registered in Antonius home-country Monaco. In total, «Fake Love888″ has lost about $60,000 at PokerStars this year. But this doesn't include Mixed and Draw Games – something that «Fake Love888″ has played quite a lot.
Похожие записи: