Pius Heinz wins the 2011 WSOP Main Event! ($8,715,638)
Tags: 2011 november 9, 2011 wsop main event, ben lamb, Martin Staszko, Pius Heinz.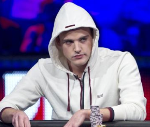 After about 7,5 hours of 3-handed play, the 2011 World Series of Poker finally got a winner, Pius Heinz, 22, from Germany. Heinz is the first German player in WSOP history to win the Main Event. For the win he received amazing $8,7 million dollars (the 3rd biggest cash in WSOP history) while Martin Staszko got $5,4 million for his efforts. This is how the final hand was played out:
Martin Staszko had the button, and he went all in for 39,5 million. Heinz called straight away and flipped over A
K
, Staszko showed 10
7
.
The tension in the room became palpable, and Staszko's and Heinz fans stood up and shouted for their cards.
The flop came 5
2
9
, and the room fell silent for a moment as neither side had hit anything. The turn card was the J
, which gave Staszko another 4 outs. The crowed started shouting again once the dealer was about to put out the river card. It was the 4
and Heinz ran over to his fans, family and friends to celebrate.
FINAL TABLE RESULTS:
1. Pius Heinz – Germany – $8,715,638
2. Martin Staszko – Czech Republic – $5,433,086
3. Ben Lamb – USA – $4,021,138
4. Matt Giannetti – USA – $3,012,700
5. Phil Collins – USA – $2,269,599
6. Eoghan O'Dea – Ireland – $1,720,831
7. Bob Bounahra – Belize – $1,314,097
8. Anton Makiievskyi – Ukraine – $1,010,015
9. Sam Holden – UK – $782,115
Похожие записи: